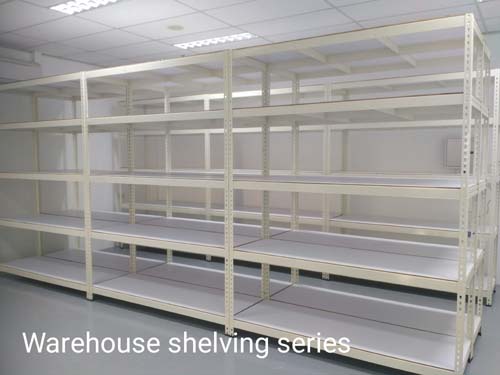 The Soho Boltless wood Shelving is a medium duty storage rack, structure powder coated in ivory coating and HDF wood panels, Low cost and fast to setup. Suitable for Warehouse, Office and School usage.
Length Available: 910mm / 1220mm / 1520mm / 1830mm
Depth Available: 305mm / 460mm / 610mm
Height Available: 1840mm / 2160mm / 2460mm
Panel: HDF Wood / 2-sided Laminated white plywood. 9mm thickness.
Upright: 1 ½ " x 1 ½" SPCC Steel at 1.8mm thickness. Fitted with rubber base shoe.
Beam: SPCC Steel bended for both side beam and span beam, surrounded to support wooden panel. Adjustable, double craw hook on all sides to upright without bolts and nuts.
Finishing: Epoxy Powder Coating in ivory white smooth texture for the frame structure, oven baked.
Weight load: Holds 250kg-300kg uniformly distributed load per tier.

Laminated-SOHO series: – 9mm thickness plywood (2 side white laminated)

For more heavier payload and specifications please visit our Longspan Racks or Heavy Duty Racks.
See also Container Trolley / Inclined Big Container Cart / Mobile Workbench
For Company/ Corporate Enquiry Please call 98262379