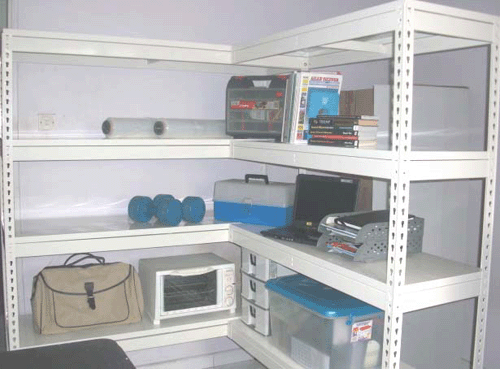 Product Description
The LS Metal Shelving or Ushaped shelving is a medium duty storage rack, powder coated in ivory coating. Both are designed without any obstructing pole as the adjacents shelving units joints. Structure is mainly Boltless and we can build to height of 2460mm max to fully utilize the vertical space of your storeroom. Payload are not compromised as the Lshaped/Ushaped layout increase the stability of the entire system as they are standing on more floor area surface.
Each decking can take up to 250-300 kg of uniformly distributed load. If you are looking to buy boltless shelving, these storeroom racks are definitely recommended as good storage solution to your messy store.
Please provide us with floorplan or store dimensions for us to configure and optimise the space usage with Lshape/Ushape shelving design.

Panels: Electro-galvanised Steel Sheet to hold 250-300kg uniformly distributed load per tier.
Finishing: Epoxy powder coating, oven baked in ivory colour,
Supporting: 1 ½ " x 1 ½" SPCC Steel at 1.8mm thickness. Fitted with rubber base shoe.
Structure: No bolts and nuts needed for the supporting, slot in design
L-design: No pole at the center corner for Lshape nor Ushape, increase 3-4 times of storage area.