Longspan racks system is a medium-heavy duty storage rack that has payload to 700-1700kg weight per tier.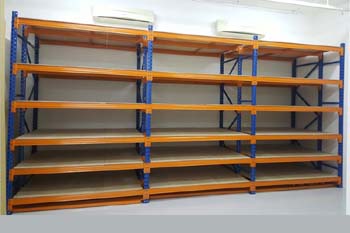 With various sizes and configurations, its another alternative to heavy duty pallet rackings.
Suitable for handloading, factory/industrial usage .
Length Available: 1350mm / 1500mm / 1850mm / 2100mm / 2400mm / 2700mm
Depth Available: 450mm / 600mm / 900mm / 1200mm
Height Available: 1800mm / 2100mm / 2400mm / 2700mm / 3000mm / 3300mm / 3600mm / 3900mm / 4200mm / 4500mm
Panel: Plywood. 12mm or 15mm thickness.
Upright Dimensions: 50x50x 1.6mm thickness. No drilling onto ground required.
Box Beam Dimensions: 80x45x 1.6mm thickness. Adjustable, double craw hook to upright without any bolt/nuts
Weight load: Holds 700kg-1700kg uniformly distributed load per tier.

Please see also for SOHO industrial Racks or Heavy Duty racks