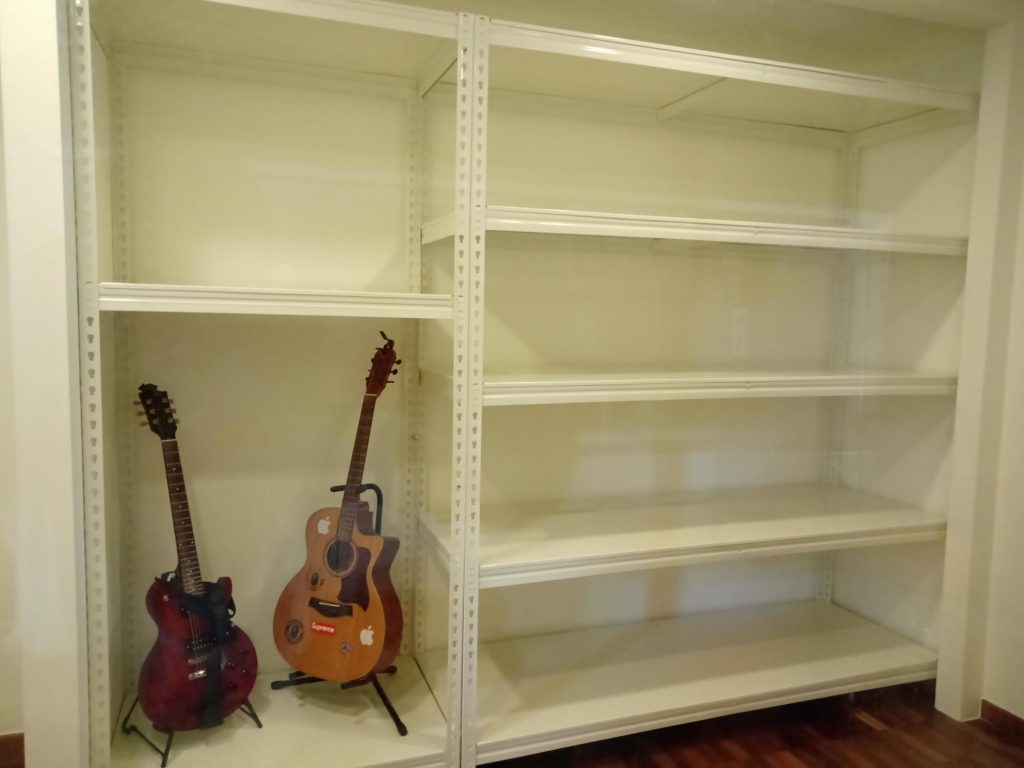 The standalone ECON Metal shelving is a medium duty storage rack, a choice for simple and quick way to obtain storage space rightaway. A Single set of metal shelf installed for your storeroom will keep it neat and organised. Recommended shelving for use of various load sizes and require different interval spacing. Fully boltless rack design make it easy to allows different deckings which are classified according to the different weight load capacities and its an easy fast way to get things organised in place and adjust the deckings easily.
Boltless Metal shelf is also a perfect storage solutions which is commonly used in Office filing systems or commercial storage area. For more space coverage, try building Lshape/Ushape Shelving series to maximise usage.
No Drilling is required. Panels are galvanised metal and can take up to 250kg-300kg of uniformly distributed load.
Length Available: 910mm / 1050mm / 1220mm / 1350mm / 1520mm / 1650mm / 1830mm Depth Available: 305mm / 460mm / 610mm Height Available: 1840mm / 2160mm / 2460mm
Boltless – Easy to install and dismantle – module system, all parts are detachable fitted with rubber shoes. 250kg-300kg uniformly distributed load per panel, all panels were reinforced by bottom stiffener Quality finishing & pleasant looking – Epoxy Powder Coating (oven baked in ivory color) Strong L-Angle supporting post , fully protected by fitted rubber base shoe. Adjustable, where adjustment of each interval panels are carried out with ease. Strong double- butterfly hook. Special design – Boltless design, no tools needed for making adjustment of the height, which no chance to cause any damages on product's surface. Wood panels is also available.
Purchase ECON Metal Racks (With Drawers) Online with Paynow.